For decades, pay-per-click (PPC) marketing has been used by advertisers to drive up interest, profit, and traffic from their customer base. In PPC marketing jobs, advertisers place bids on the automated AdWords, which then trigger their ads, and advertisers pay each time their ad gets a click.
Though PPC has proven itself as a genius marketing tool, managing campaigns can be both time-consuming and complex, especially for larger businesses. That's where Google Ads automation tools come in!
Google Ads is the largest PPC advertising platform, allowing businesses to create and run advertisements on Google search engine results pages and other websites in the Google network.
There are many benefits to automating Google Ads, and a range of automation tools are available on the market to make using this platform more straightforward.
What is Google Ads Automation?
Google Ads Automation is a feature in Google Ads (previously known as Google AdWords) that allows you to automate certain tasks in your advertising campaign so that you can save time and effort. For example, you can set up specific automation tools to make running an ad campaign easier and using Google Ads simpler. For example, you can set performance goals and then automate your bid strategy to adjust to the changing needs of your agency and the wider market.
This means that you can have your ad campaign running and updating automatically, without having to worry about manually making those changes every time. Such automation can help you optimise your advertising efforts and improve the overall performance of your campaigns.
So essentially, Google Ads Automation tools allow you to put specific areas of your marketing campaign, strategy and analysis on auto-pilot, saving your agency time and effort. But what are these tools, and how do they work?
10 Best Google Ads Automation Tools
As mentioned, there are many Google Ads automation tools on offer to make using the Google Ads platform as effortless as possible. Here are the top 10 tools on the market:
#1. Opteo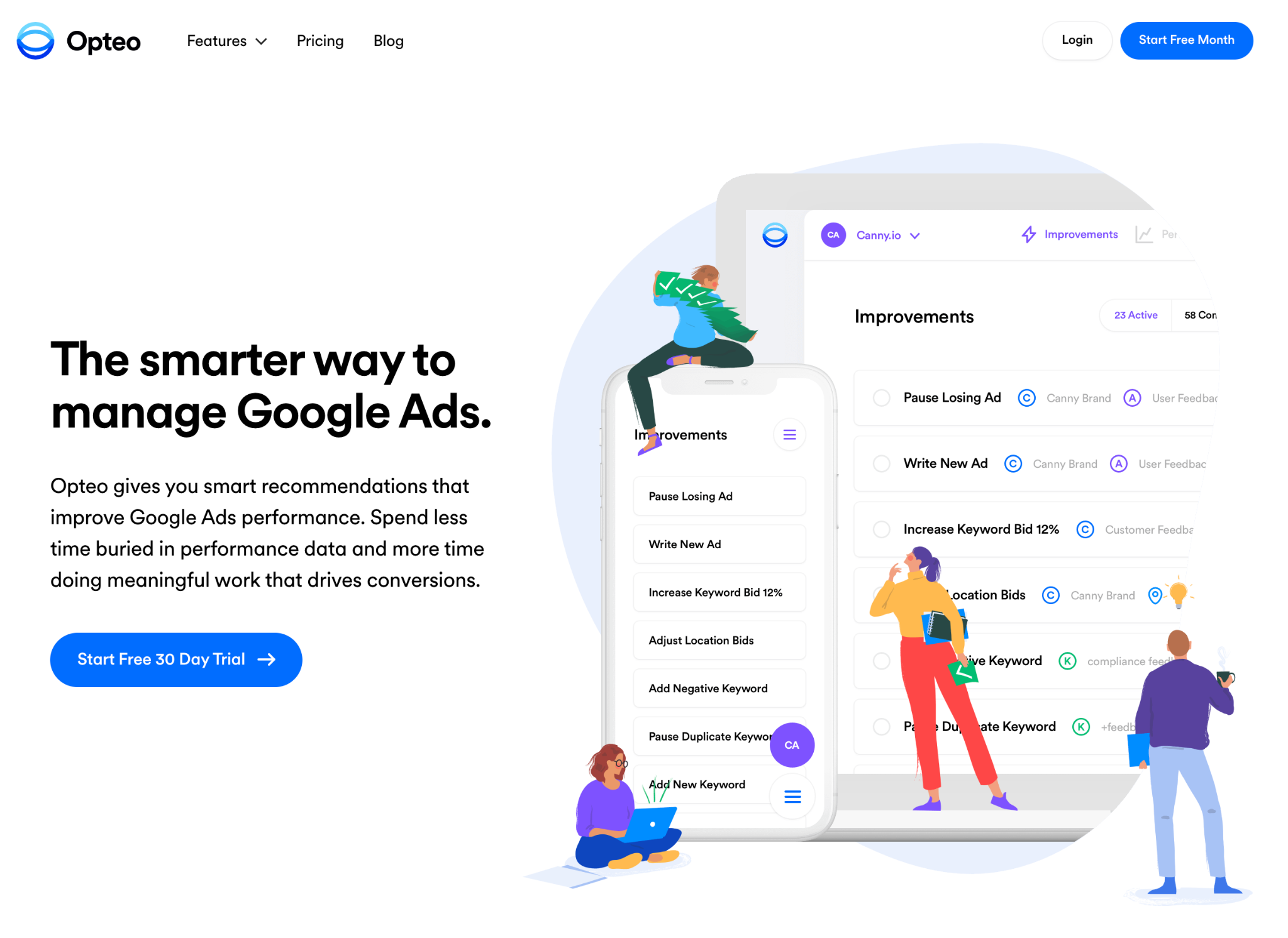 First on our list is Opteo, a Google Ads automation tool that allows agencies to continuously monitor their accounts and discover statistically significant patterns in their data. Through this feature, Opteo provides users with recommended changes, which can be pushed live with a simple click.
Along with these "smart recommendations," Opteo's key features include providing performance graphs and reports, which can be created in minutes. In addition, the platform provides four payment plans based on usage, ranging from $99 to $799 per month, to suit a range of needs.
Opteo works to equip companies with the necessary tools to allow users to spend less time analysing performance data and have more time for important tasks that boost conversions!
#2. Revealbot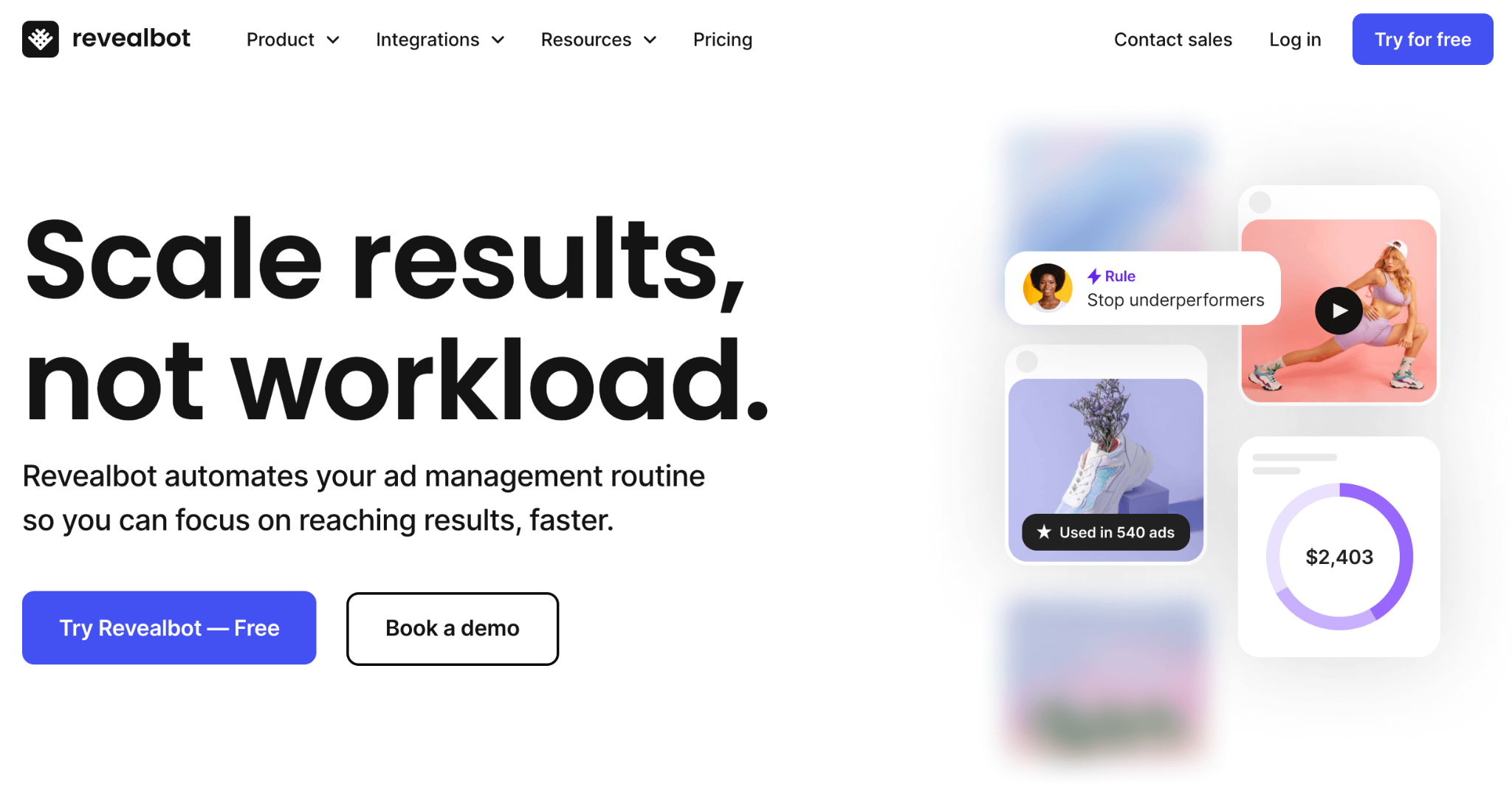 Revealbot, similarly to Opteo, uses automation and optimisation strategies to help advertisers improve the performance of their social media and Google Ads campaigns. This saves users time and effort while providing valuable insight reports through campaign automation.
Its top features include allowing users to set up rules based on campaign objectives and key performance indicators (KPIs). For example, if the conversion cost is going below a certain threshold, a user could set a rule to automatically increase the campaign budget.
Revealbot also lets users customise metrics, timeframes and reports, and provides insights into Top Creatives and Audiences to give agencies optimal control.
RevealBot provides a range of fixed payment plans (from $99 to $1,799 per month) depending on monthly ad spend and has a custom plan option for any specific requirements that an agency might have!
#3. Optmyzr
Next on our list is Optmyzr, another Google Ads automation tool designed with PPC insurance in mind. Started by one of the first 500 employees at Google, this software claims to help agencies discover what works best for their clients. Most importantly, it offers a range of features to make this happen.
Like its competitors, Optmyzr offers its users automated account analysis, built-in safeguards, bid optimisation, data visualisation, ad copy optimisation and automated reporting. It also offers a range of "Advanced Features" such as a rule engine, customised recommendations, enhanced scripts and inventory campaigns to ensure that every aspect of PPC is managed seamlessly.
In addition, Optmyzr Express, their next-tier offering, has been designed as a three-stage express solution, offering users suggestions for making key optimisation to paid ad campaigns.
Optmyzr also offers plans based on monthly ad spend (€228/mo to €732 or roughly $242 to $778/mo), customised plans and standalone tools.
#4. Google Ads Editor
Previously known as AdWords Editor, Google Ads Editor is Google Ads' own, extremely useful automation tool. It allows advertisers to manage their ad campaigns offline and then upload changes once they are back online. It can be used to make big changes to campaigns, individual ads, and more, all while still being able to download and analyse data from your live campaigns.
To use this powerful tool, you simply have to download the application and sign in. Once you've done this, you can download an offline copy of your Google Ads account data, make changes and review them. When you next have access to the internet, you can then upload and sync those changes, and voilà, your updates are live!
Oh, and what's more, Google Ads Editor is completely free!
#5. SpyFu
SpyFu is another valuable Google Ads automation tool that lets users research and analyse keywords, ad copy, and the performance of their competitors' digital advertising campaigns. It provides advertisers with quick access to market trends to inform and optimise their own campaign strategies.
SpyFu works as a search engine. Its key features include allowing clients to search for competitors, analyse their use of a specific keyword to inform SEO strategy, track their ad copy and history and generate comprehensive reports.
So, to put it in simple terms, SpyFu automates the boring tasks of market and competitor research so that your agency can focus on the important stuff!
They offer annual or monthly payment plans, ranging from just $16/mo to $299/mo.
#6. Swydo
Swydo is another excellent Google Ads automation tool. It automates the reporting aspect of your PPC campaigns. It works with many other platforms besides Google Ads, such as Google Analytics, Microsoft Ads, and ad platforms for social media. This will allow you to create comprehensive and rich automated reports.
Swydo is a great tool for businesses ranging from small startups to large enterprises. Client reporting is easily scalable, which makes this an ideal tool whether you have 10 or 1,000+ clients. They make the process simple by letting you tweak settings across accounts with just a single click.
What's more, you can customise your reports to look the way you like by choosing from a variety of templates, widgets, and KPIs. Swydo will automatically alert you based on the KPIs you choose and the thresholds you set, allowing you to take immediate action on any metrics that have gone out of range.
This Google Ads automation tool will cost you anything between €39 and €3,359 (or roughly $42 and $3,576) depending on the number of data sources you will be connecting (10 to 2,000). They also offer a custom plan if you need to connect more than 2,000 data sources.
#7. AdEspresso
Another popular Google Ads automation tool on the market is AdEspresso, which focuses on audience targeting. It is designed to manage and support small to medium businesses' campaigns on Facebook, Instagram, and Google Ads in one simple platform.
AdEspresso offers many great features, such as ad creation and management, split A/B testing, automatic optimisation based on algorithms and analytics reporting.
Above all, AdEspresso is celebrated for its extremely user-friendly interface, which makes the sometimes overwhelming task of advertising accessible and easy!
Ad Espresso has three price plans ranging from $49/mo to $259/mo.
#8. Optimizely
Optimizely is a platform that focuses on ad campaign A/B testing. This Google Automation tool can help you experiment with your ad copy and pick the right settings for your PPC campaigns.
Besides that, the tool includes campaign creation and management, visitor data collection, analytics reporting and integration with other tools to allow businesses to easily manage their PPC campaigns.
Unlike its competitors', Optimizely's plans are split into product categories (orchestrate, experiment, and monetise), offering two plans with distinct features for each category.
#9. Madgicx
Madgicx is another Google Ads automation tool that aims to help e-commerce brands get the most out of their ad campaigns. They do this through the use of artificial intelligence (AI) and machine learning (ML) to come up with a service that is "better than humanly possible."
This platform offers its users autonomous ad management and optimisation to maximise specific KPIs, audience targeting, creative insights from competitor data, and support across multiple social channels.
Madgicx is another service that is known for having a user-friendly interface, perhaps best exemplified by its "E-Commerce Marketing Cockpit," an easy-to-use template provided to visualise and create your dream performance dashboard.
Madgicx has a range of payment plans and products to offer. Like its competitors, it offers plans based upon monthly ad spending but also presents an "All-In-One AI Suite" at a fixed price of $383/mo. The company also gives you the option of trying the platform for free, with no credit card required.
#10. Adalysis
And last on our list is Adalysis, another PPC automation platform that provides a suite of features to ensure that advertisers are optimising their Google and Microsoft Ads campaigns.
Notably, Adalysis claims to be the world's only software that offers fully automated A/B testing. Other features include pulling optimisation suggestions from current and historical data, performance tracking, quality score analysis, automated bidding and management to ensure optimal performance!
Again, like many others on the list, Adalysis offers payment plans depending on monthly ad spending ($99/mo to $499/mo). Users spending over $500k/mo are advised to come up with a custom plan.
Benefits of Using Google Ads Automation Tools
So, now that you know the top Google Ads Automation tools on the market, let's break down the benefits of using these tools:
Achieving results faster. Through automating a bulk of the workload and giving you the information you need to drive up results within minutes, automation tools can help you achieve your agency's goals faster!
Saving time. Using Google Ads automation tools saves you time by putting those repetitive and time-consuming tasks into auto-pilot! Automation tools can carry out tasks that may take you days, in a matter of minutes, freeing up your time to use it more effectively.
Increasing efficiency. Using Google Ads automation tools increases efficiency as they are able to continuously work on your campaigns without requiring your attention. This can be done without the risk of human error, too, achieving better results.
Increased ROAs. Another massive benefit of using Google Ads automation tools is that they increase Return on Ad Spend (ROA), and ultimately resulting in a higher financial ratio in relation to company assets. They can also reduce excess ad spending by pausing underperforming ads and spending budgets more effectively!
4 Best Practices for Utilising Google Ads Automation Tools
Adopting specific practices to best utilise Google Ads automation is important for ensuring your agency is performing at its optimum level. Here are 4 best practices you can start implementing today:
#1. Set up Goals & Objectives
Start with measurable goals and objectives. When you set expectations, you will have a clear understanding of what you want to achieve by implementing Google Ads automation tools. Having goals and objectives will also serve as a distinct framework on which to base your campaign optimisation, management and analysis.
#2. Utilise the Right Tools
Carefully selecting which Google Ads automation tools will work to execute your goals is important for getting the most out of your automation efforts.
The tools will assist you in responding quickly and effectively to the unique needs and objectives of your agency while taking the pressure off in select areas and allowing you to use your time more efficiently!
#3. Track Data & Analyze Results
Committing to consistently monitoring progress and learning from the data that you're receiving will ensure that you are utilising Google Ads automation tools in the best possible way.
You can quickly identify and address any issues that arise, optimise your campaigns, improve ad targeting and, most importantly, come up with new and unique ways to keep expanding your agency's impact.
#4. Test Different Strategies
Modify your strategy as you go (if needed) to improve results. Changing and adapting your strategy as time goes on to maximise your results is our final suggested practice for utilising Google Ads automation tools.
Doing this will allow you to respond effectively to shifts in your business or the wider marketplace and keep your business model functioning at an optimal level. But as the saying goes "if it ain't broke, don't fix it!"
Pros and Cons of using Google Ads Automation Tools
Using Google Ads automation tools will come with lots of advantages and some disadvantages for your agency. Let's check them out in detail:
Pros of Using Google Ads Automation Tools
Ease of setup. As Google Ads automation tools are cloud-based, they can be set up remotely and only require an internet connection, not to mention being extremely simple to operate.
Intuitive interfaces. Google Ads Automation tools have intuitive interfaces. These ensure that users will have an easy time navigating them and setting up Google Ads automation without breaking a sweat.
Improved efficiency. Using automation tools for ads data management reduces time and risk of human error in achieving important results.
Scalability. Automation tools make scaling campaigns up and down in accordance to the agencies' needs virtually effortless.
Cons of Using Google Ads Automation Tools
Difficulty in tracking results across tools. When using multiple tools, it can be difficult to track the results of each individual one and isolate how they are impacting the overall campaign. This could lead to confusion and make it harder to optimise campaigns effectively.
Expensive to use them. Google Ads automation tools can become expensive to use, especially if you need to use a few of them. In addition, the cost can increase as the size and complexity of the campaigns being managed grow.
Over-reliance. Moreover, relying too much on Google Ads automation tools may lead to complacency and a lack of creative growth within an agency.
Automate PPC Campaigns With the Help of Acuto
PPC strategies can be challenging to manage when using a variety of tools, leading to increased costs, limited customisation and control, and difficulty tracking results.
Relying too heavily on automation can also lead to missed opportunities, without its users even knowing it!
That's where Acuto comes in.
Our tailored automation services can help you automate your PPC campaigns in Google Ads, using customised automation scripts to achieve better results at a reasonable cost.
With our expert knowledge and support, you will be able to better optimise your campaigns and drive up ROAs without the hassle and complexity of overspending on multiple tools!
Interested? Get in touch to learn more!
Key Takeaways
Automating PPC campaigns in today's competitive online environment is crucial for keeping up with the competition. That's why using Google Ads automation tools is proving to be necessary, yet it can become expensive.
Turning to automation scripts and bespoke software, however, can help your marketing agency get an edge without having to break the bank. That's where Acuto can help.
To recap:
Google Ads automation involves automating various aspects of your paid ad campaigns, such as bidding, ad copy, or even ad creatives.
Many great Google Ads automation tools exist on the market, designed to reduce the time and fuss of managing and analysing PPC campaigns manually.
Adopting thought-out practices like setting up clear goals and monitoring progress may just be the key to optimising your PPC campaigns.
Using multiple tools at once to achieve your advertising goals may be costly and complex, but here at Acuto, we've designed bespoke solutions to combat your concerns!